Audience: Retailers and Suppliers
When you sign into CommerceHub's Dsco platform, the first page you see is your Dashboard. From your Dashboard, you can:
Use the navigation menu to access and take action on basic Dsco portal functionality including Workflows, Automation & Reporting, Partners, and Settings.
Access the Notification Center and view issues and errors related to platform-level data.
View drop-ship trends related to orders, shipments, and finances. This allows you to quickly spot trends in your data so you can take action to improve your processes.
Click HERE to go to your Dashboard in the Dsco portal.
Using the navigation menu
The navigation menu provides access to basic Dsco portal functionality as well as product walkthroughs and support articles.
Note: The options available in each menu option will vary based on your configuration.
Click the navigation menu and select:
Automation & Reporting to review Scorecards, manage exceptions, reports, and set up automation jobs.
Partners to manage your supplier trading partner connections.
Settings to manage your account's general settings, such as mapping settings, warehouses, or company profile.
The gear icon to sign out of the Dsco portal.
The question mark icon to view available Setup Guide product walkthroughs (such as updating your inventory, cancelling orders, or creating a return), How-to Guides for basic tasks, or support articles in Dsco Support for step-by-step instructions.
Your company name to switch between multiple accounts (if applicable).
Accessing the Notification Center
Note: At this time, the Notification Center will only display issues, errors, and file processing status related to advanced catalog services.
The bell icon at the top of the page gives you access to the Notification Center where you'll see alerts for issues, errors, and file processing status related to your data (such as orders, inventory, and catalog data) once it's completed processing. The Notification Center is designed to:
Capture and persist important information about the outcome of a user's actions.
Provide a single location for all of your platform-related notifications.
If you are using advanced catalog services, a green dot will appear on the bell icon at the top of the page when you have new notifications. For more information, see Viewing notifications for advanced catalog services.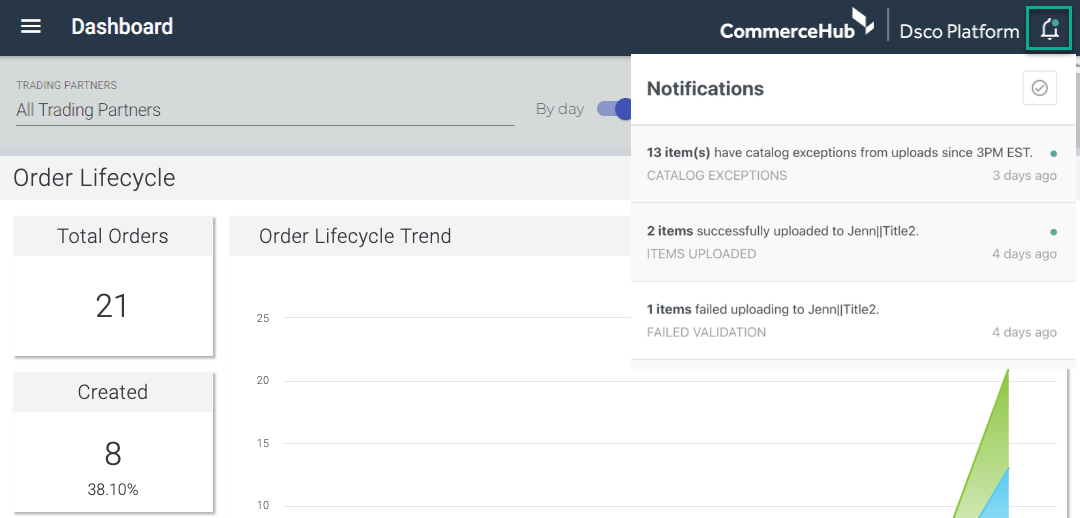 Viewing drop-ship trends
The Dashboard can be used to visualize your drop-ship data on the platform.
Wondering how your weekend sale went? Looking to track and improve your fulfillment rate? Trying to see how your margins are performing? You can view all of those answers and more through the Dashboard.
Note: The trends rely on data as it is provided by trading partners. There may be cases where charts are inaccurate or incomplete because data points were not given (i.e. cost, ship on-time dates, etc.).
At the top of the Dashboard, set the Trading Partners, By day or By week setting, and date range for the data you would like to view: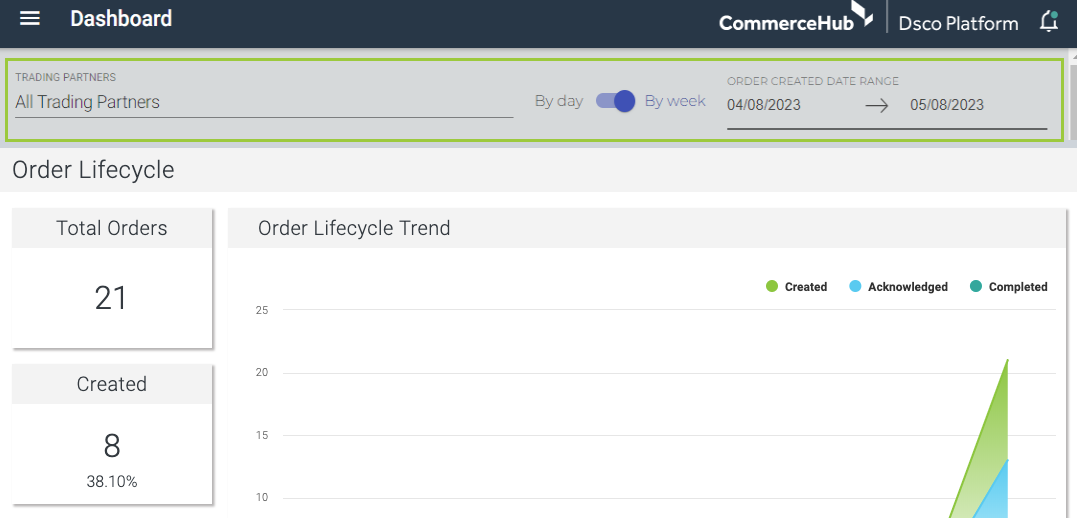 The first chart displays Order Lifecycle trends. Use this to monitor your total order count as well as current order statuses.
The order status listed on this chart are following the Dsco order lifecycle (Created > Acknowledged > Completed). If needed, you can review the order status definitions here.
The second chart provides Order Fulfillment data, including the percentage of orders fulfilled and cancelled.
The third chart is providing Ship On-Time data, including the percentage of orders that were completed within the retailer's time constraints.
Finally, there is the Financial chart that displays the total revenue, total cost, and net income for the given date range.